Premiering Aug 7, 2021
Music Director: Eric Garcia
Program
Richard Wagner
arr. Gale
(1813 – 1883)
Elsa's Procession to the Cathedral
Anton Bruckner
(1824 – 1896)
Symphony No. 7 in E Major for Chamber Orchestra
I. Allegro moderato
II. Adagio. Sehr feierlich und sehr langsam
III. Scherzo. Sehr schnell
IV. Finale. Bewegt, doch nicht schnell
Musicians

Drew Ziemba, Associate Principal Trumpet

Sponsored by vICKI KREIMEYER




Brendan Grzanic, Trumpet




Mark Givens, Horn


no person with Talon Smith
no person with Danial-Howard


Carmen Izzo, Principal Clarinet

sponsored by Phil and Jennifer Jensen




Brian Vance, Principal Horn

SPONSORED BY ANNE AND BOB HAY




Del Parkinson, Principal Piano

Sponsored for two years by Andy and Elizabeth Scoggin, and Jerry Saltzer in memory of Marlys Anne Saltzer




Betsi Hodges, Piano




Chia-Li Ho, Principal Second Violin




Geoffrey Hill, Piano

sponsored by philip gordon




David Johnson, Principal Viola




Kyla Davidson, Cello




Chris Ammirati, Principal Bass




Barton Moreau, Harmonium
Drew Ziemba
Brendan Grzanic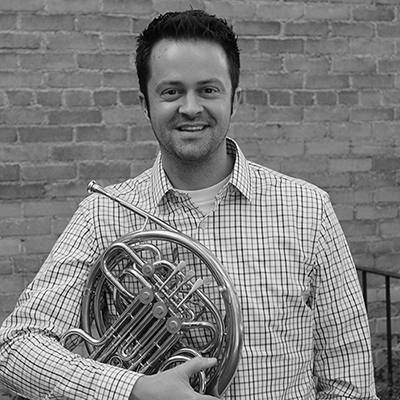 Mark Givens
no person with Talon Smith
no person with Danial-Howard
Carmen Izzo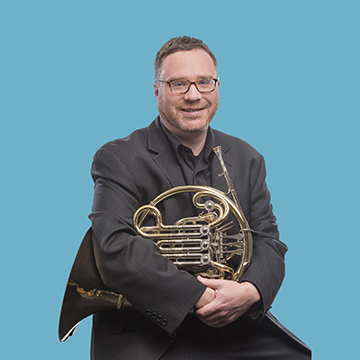 Brian Vance
Del Parkinson
Betsi Hodges
Chia-Li Ho
Geoffrey Hill
David Johnson
Chris Ammirati
Barton Moreau
Sponsors
Season
Sponsors
Season
Partners
Concert
Sponsor
Education and
Community
Sponsors
Program Notes
Winds & Brass
Richard Wagner / May 22, 1813 --- February 13, 1883
Elsa's Procession to the Cathedral from Lohengrin (arr. Jack Gale)
Every generation seems to need its larger-than-life superheroes. Wagner drew his from medieval German Romantic folklore. Lohengrin is a prime example, marking Wagner's transition from his early operas to his epic "music dramas", including the Ring, Tristan and Isolde, and Parsifal. So, what's the story, and why is Elsa participating in a procession towards a cathedral?

Lohengrin, the mysterious knight (in shining armor), the Keeper of the Holy Grail, has come in disguise to Antwerp, Belgium, to rescue its inhabitants from barbaric invaders. He has arrived in a boat drawn by a swan. He discovers the beautiful Elsa who stands accused of murdering her brother. On the condition that she will never reveal his true identity to anyone, Lohengrin offers to marry her. Shortly after the marriage, Elsa's curiosity about her husband gets the better of her, and Lohengrin's identity is exposed. He kills his antagonists, summons the swan to return him to the Temple of the Holy Grail, and the swan turns into Elsa's dead brother. As Lohengrin departs, Elsa, overcome by grief, expires. (And nobody lives happily ever after!)

Had Wagner lived in the 20th century, he would have no doubt become a filmmaker rivaling Cecil B. DeMille.

Now we know why Elsa is in a procession on her way to the cathedral: to marry the inscrutable Lohengrin. The music that follows this processional episode in the opera is the well-known Here Comes the Bride, known as the Bridal Chorus – not to be confused with Mendelssohn's Wedding March from his A Midsummer's Night Dream.

Jack Gale is a trombonist. For 15 years, he was a member of the renowned Manhattan Brass Quintet. He arranged many pieces for this ensemble including Elsa's Procession. From 1990 to 1994, he was an arranger and a musician for Garrison Keillor's American Radio Company on NPR. From Antwerp, Belgium to Lake Wobegon, that's quite a trip (sic).
Anton Bruckner / September 04, 1824 – October 11, 1896
Symphony No. 7 for Chamber Orchestra
After Beethoven, classical music branched off in two directions, one camp conservative, and the opposition progressive. The two competing camps became hostile towards each other, supported by their sycophantic critics who delighted in savaging their opponents. Richard Wagner with his "New German School" became the leader of the progressives, Brahms of the old school conservatives.

Born in 1824, Anton Bruckner wandered into this nasty war and had the misfortune of displeasing both camps. He was a pious country bumpkin who moved into sophisticated Vienna – the Brahms stronghold – but he was an ardent admirer of Wagner, the musical enemy. The haughty Viennese regarded him as a poorly dressed naive yokel. He frequently found himself on the compost heap of unflattering gossip. His first two symphonies were rejected by all local orchestras, and the premiere of his Third, which he dedicated to Wagner, was a disaster. The audience laughed, jeered, and walked out before it was over, leaving only a handful of people in their seats. Bruckner, tears streaming down his face, stood by himself on the podium while the musicians headed for the exits.

Supported by his deep religious beliefs, Bruckner soldiered on. He wrote his Fourth and Fifth Symphonies but was unable to get them performed. While he was working on this Sixth, however, the Wagnerian conductor Hans Richter discovered his Fourth, the Romantic, and premiered it to unexpected acclaim. At the age of 53, the dam had finally broken. Overnight Bruckner became a celebrity.

In 1891, Emperor Franz Joseph awarded him the coveted Imperial Seal and offered to grant him any reasonable request. Bruckner could have asked for a house or a state pension, but no, he asked the Emperor to prevail on the critic Edward Hanslick to treat his music less harshly in his reviews!

Bruckner reported that the opening theme of this symphony came to him in a dream. In it, an old friend came to him, whistled the tune, and told him it would make him a fortune. Bruckner jumped up, lit a candle, and put it on paper.

Bruckner wrote the second movement as a lament for his ailing idol Wagner:

One day I came home and felt very sad. It is impossible, I thought, that the Master should live much longer. And then, the C-sharp minor Adagio came to me.

He started the Adagio three weeks before Wagner's death and finished it nine weeks later.
But how did this enormous symphony become reconfigured for a chamber orchestra? In 1918, still in the shadows of a Europe devastated by WWI, Arnold Schoenberg organized a series of 117 private concerts over 3 years featuring the works of the great contemporary composers. His team of assistants reduced their works in size to fit into limited budgets and compact venues. Schoenberg chose Bruckner's Seventh Symphony for this treatment. Schoenberg's series closed when hyperinflation began to destroy the Austrian economy, foreshadowing WWII.

So how did his assistants do? Were they faithful to the original? Decide for yourself!

WRITTEN BY THE HONORABLE STEPHEN S. TROTT
Executive Director Message
Welcome to the Boise Phil's new Digital Stage! Nearly every week this season, you'll enjoy new performances that you can stream anytime, anywhere. As a bonus, you can deepen your experience with our weekly Backstage conversations featuring our music director and musicians. Thank you for joining us!
Be sure to check out our Inside the Symphony blog for special features and insights into the Boise Phil.
MEET THE STAFF
Music Director Message
This season is designed to allow our audiences and philharmonic musicians to interact in the most intimate of settings. Our concerts will feature performances directly related to our great community and celebrate composers from diverse backgrounds - music will sing throughout the Treasure Valley and beyond. I am so excited to share the experience with our audiences!
MAESTRO'S CORNER
Board President Message
As board president, let me take this opportunity to thank all of the people, organizations and businesses who have helped us bring this innovative season to life. Your support has ensured that the Boise Phil continues to thrive and evolve to ensure that your local orchestra is accessible to everyone in our community.
MEET THE BOARD
Video Team
It takes a village to bring our Digital Stage to life. The Boise Phil is grateful to all of the incredible team of artists, producers, engineers and film-making wizards that have built these productions from the ground up.
MEET THE CREW
Youth Orchestra
Led by Jennifer Drake, the Boise Phil Youth Orchestra is a joy to hear. With more than 175 members practicing and performing safely this season, stay tuned for some great concert performances!
YOUTH ORCHESTRA
Master Chorale
Led by Grant Farmer 
interim director,
the Boise Phil Master Chorale will be performing with the full orchestra numerous times during the 21-22 season as well as their Spring concert.
Master Chorale
Donors
Thank you 19|20 donors and sponsors!
Mission
The Boise Phil reflects the energy and heartbeat of our communities through invigorating musical experiences that touch the human spirit.