Premiering November 21, 2020
Music Director: Eric Garcia
Program
Francis Poulenc
(1899-1963)
Sonata for Horn, Trumpet, and Trombone, FP 33
I. Allegro Moderato
II. Andante
III. Rondeau
Ingolf Dahol
(1912-1970)
Concerto a tre
Robert Schumann
(1810-1856)
Piano Trio No. 1 in D Minor, op. 63
I. Mit Energie und Leidenschaft
II. Lebhaft, doch nicht zu rasch
III. Langsam, mit inniger Empfindung
– Bewegter – Tempo I
IV. Mit Feuer – Nach und nach schneller
Musicians

Mark Givens, Horn




Brendan Grzanic, Trumpet


no person with talon-smith


Christina Lee, Clarinet

sponsored by Tom and Angie Beauchaine




Jessica Harned, Violin




Heidi Nagel, Cello

Sponsored by thomas j. katsilometes & katherine A. Mathews




Del Parkinson, Principal Piano

Sponsored for two years by Andy and Elizabeth Scoggin, and Jerry Saltzer in memory of Marlys Anne Saltzer




Katherine Dickeson, Violin




Stephen Mathie, Cello

Sponsored by CAROLYN YOCHUM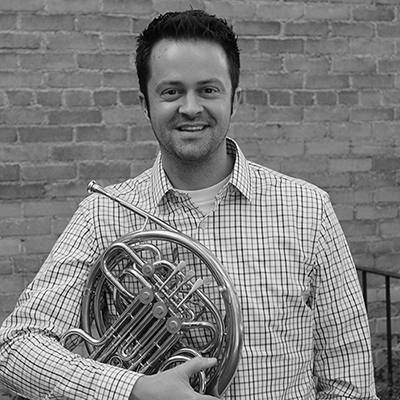 Mark Givens
Brendan Grzanic
no person with talon-smith
Christina Lee
Jessica Harned
Heidi Nagel
Del Parkinson
Katherine Dickeson
Stephen Mathie
Sponsors
Season
Sponsors
Season
Partners
Concert
Sponsor
Education and
Community
Sponsors
Francis Poulenc / January 7, 1899 – January 30, 1963
Sonata for Horn, Trumpet, and Trombone
Poulenc belonged in the 1920s to an avant-garde circle of French composers called, Les Six. Their style of composing reflected a revolt against Debussy and the impressionists as well as against the massive scale and superabundant textures of the late Romantics. Writing for more intimate ensembles, Les Six's music tends to be concise without being bare, simple without being trivial, well-structured, and very accessible. Their works create an impact on par with more densely orchestrated symphonic works.

Les Six rejected the prevailing idea that a composer had to be some kind of strange being battling with demons, communing with nature, or struggling with the cosmos. They believed instead that a composer could be, to quote Aaron Copland, a regular fellow "who liked to go to nightclubs like everybody else."

The youthful Poulenc fit this description to a "t." He was intentionally an enfant terrible, audacious in spirit, extroverted, and brash in manner. His early music reflected these characteristics, giving it the timeless feeling that it is fresh and new. He said, "I am not a cubist musician, even less a futurist, and certainly not an impressionist. I'm a musician without a label. What counts is not what is played, but what is played again and again." And here we are 100 years later with one of his enduring pieces.

This eclectic sonata delivers a rich and entertaining variety of moods, tone colors, striking rhythms, elegant wit, and dissonances, Poulenc uses what is sometimes called the "added note technique". In plain terms, this procedure simply means adding a foreign note to a melody or a chord that doesn't belong, thereby creating a momentary dissonance. This device creates fleeting tension that adds a spice to music that is otherwise comfortably harmonic. Remove the added notes, and this piece would sound like it could have been written in the 18th century.

When asked in 1950 about his music, Poulenc offered these observations: "You will find sobriety and sorrow in French music just as in German and Russian. But the French have a keener sense of proportion. We realize that somberness and good humor are not mutually exclusive. Our composers, too, write profound music, but when they do, it is leavened with that lightness of spirit without which life would be unendurable."

Poulenc was a free spirit. One of his friends said, "There is in him something of the monk and the street urchin." Both show through in his captivating music. I might note that Poulenc gave this program annotator some good advice: "Above all, do not analyze my music—love it!"


Written by the Honorable Stephen S. Trott
Ingolf Dahl | June 12, 1912 – August 06, 1970
Concerto a Tre for Clarinet, Violin, and Cello
Like many European artists of his generation, Dahl fled in 1939 to escape totalitarianism, in his case the Nazi menace. After brief stays in Switzerland and Paris, he emigrated to the United States, becoming a citizen in 1943. Once here, once liberated, he embarked on a storied career which illustrates the observation that ours is a "land of opportunity".

Dahl settled in Los Angeles. In 1945, he joined the music faculty of USC where he taught for the rest of his life. His most famous student? Michael Tilson Thomas. In 1957 he co-directed with Aaron Copland the acclaimed Ojai Music Festival. But that was just the beginning of a great ride. Along the way he toured as a pianist accompanying the ventriloquist Edgar Bergen, and his dummies Charlie McCarthy and Mortimer Snerd. Dahl produced arrangements for Tommy Dorsey and Victor Borge, and he gave lessons in classical music to Benny Goodman. In the film industry, he played the keyboard on many soundtracks – including the epic Spartacus – for Fox, Columbia, Universal, MGM, and Warner Brothers. His most well-known TV show was The Twilight Zone. But my favorite is that Dahl played both the second and third movements of Beethoven's Pathetique sonata in the 1969 animated movie A Boy Named Charlie Brown. (And I thought it really was Schroeder on his toy baby grand!)

This concerto is lots of fun, with some moments tinged with a sense of sadness. Dahl left us a program note probably for serious musicians, but here goes. "The basic thematic idea … consists of six notes: E-flat, B-flat, B-flat, C, F, F.  The character of the work is concertante [a piece with multiple solo parts] and playful but at the same time very strictly organized on the basis of the previously stated 'thematic germ.' These notes are almost ever-present in harmonic guises too numerous to mention: they are contracted (as at the very end) or expanded (as at the beginning). They are transposed, inverted, telescoped, and also hidden under elaborate melodic designs. It is not the composer's intention that the manipulation of the 'thematic germ' be consciously experienced by the listener. They are just a means to an end, which is the expressive and intellectual musical whole." Okay Ingolf, I won't listen for them, I promise. You shouldn't either. Just enjoy this delightful piece.

Jewish by birth, can you imagine what Dahl's fate in Germany would have been had he not come to the U.S.? Like Rachmaninoff, Stravinsky, Darius Milhaud, Eric Korngold, Arnold Schoenberg, and Paul Hindemith, Dahl flourished under freedom – to our lasting benefit.


Written by the Honorable Stephen S. Trott
Robert Schumann / June 8, 1810 - July 29, 1856
Piano Trio No. 1
After wasting two years in law school without attending a single class, twenty-year-old Robert Schumann decided to change course. Enthralled by Romantic literature and poetry, he announced to his family and friends that he would become Europe's greatest pianist. Just two years later, an accidental injury to his hand demolished his dreams, so he became a self-taught composer.

Schumann developed into an arch-Romantic. He ardently embraced the idea that music was above all a subjective medium of personal expression. His own words illuminate his art: "I am affected by everything that goes on in the world. I think it over in my own way, and then I long to express my feelings in music." A poem he composed as a teenager gives us a window into his persona: "Yea, might I be but a tear. I would weep with her, and then, if she smiled again, how gladly would I die on her eyelash and gladly, gladly be no more." We find this hypersensitivity expressed everywhere in his compositions. "What I really am," he wrote, "I do not know myself.If I am a poet – for no one can become one – destiny will decide one day."

This trio is pure music. It has no extramusical pictorial or verbal content. That said, it boils over with compelling high-octane emotion, starting with the first bar of the opening movement. Yearning, resignation, resolve, anger, it's all there. It conveys a free passionate spirit engaged in animated wanderlust, only to be consumed at the end of the movement by despair.
Movement two is a peppy scherzo.

The third movement is the trio's center of emotional gravity. It is the sound of alone. All of a sudden the music attempts to shed its melancholia, only to be jerked back to the slings and arrows of fate and fortune, ending with an inconclusive chord.

Taking a page from Beethoven's Fifth Symphony, the model of the triumphant finale, the fourth movement finally breaks through the gloom and soars to a jubilant conclusion.

When I was listening to this marvelous piece for the first time, it dawned on me that it has the power and the impact of a full orchestra! Schumann's skillful scoring is truly amazing.


Written by the Honorable Stephen S. Trott
Executive Director Message
Welcome to the Boise Phil's new Digital Stage! Nearly every week this season, you'll enjoy new performances that you can stream anytime, anywhere. As a bonus, you can deepen your experience with our weekly Backstage conversations featuring our music director and musicians. Thank you for joining us!
Be sure to check out our Inside the Symphony blog for special features and insights into the Boise Phil.
MEET THE STAFF
Music Director Message
This season is designed to allow our audiences and philharmonic musicians to interact in the most intimate of settings. Our concerts will feature performances directly related to our great community and celebrate composers from diverse backgrounds - music will sing throughout the Treasure Valley and beyond. I am so excited to share the experience with our audiences!
MAESTRO'S CORNER
Board President Message
As board president, let me take this opportunity to thank all of the people, organizations and businesses who have helped us bring this innovative season to life. Your support has ensured that the Boise Phil continues to thrive and evolve to ensure that your local orchestra is accessible to everyone in our community.
MEET THE BOARD
Video Team
It takes a village to bring our Digital Stage to life. The Boise Phil is grateful to all of the incredible team of artists, producers, engineers and film-making wizards that have built these productions from the ground up.
MEET THE CREW
Youth Orchestra
Led by Jennifer Drake, the Boise Phil Youth Orchestra is a joy to hear. With more than 175 members practicing and performing safely this season, stay tuned for some great concert performances!
YOUTH ORCHESTRA
Master Chorale
Led by Grant Farmer 
interim director,
the Boise Phil Master Chorale will be performing with the full orchestra numerous times during the 21-22 season as well as their Spring concert.
Master Chorale
Donors
Thank you 19|20 donors and sponsors!
Mission
The Boise Phil reflects the energy and heartbeat of our communities through invigorating musical experiences that touch the human spirit.