Premiering April 3, 2021
Music Director: Eric Garcia
Program
Wolfgang Amadeus Mozart
(1756 – 1791)
Serenade No. 12 in C Minor, K. 388
I. Allegro
II. Andante
III. Menuetto
IV. Allegro
Musicians
Lauren Blackerby, Principal Oboe
Sponsored by AJ & Susie Balukoff
Jessie Brown, Oboe
Since returning to Boise in 2015, Jessie Brown has been a regular sub with the Boise Philharmonic. She was thrilled to officially join the orchestra as the English horn player in 2019.
Growing up in Blackfoot, ID, Jessie fell in love with the English horn and devoted much of her time performing on the instrument. During that time, she was a member of the Idaho Falls Youth Symphony and the Idaho State Civic Symphony. She has made appearances in several English horn masterclasses with Carolyn Hove, as well as a masterclass with Sandro Caldini at the 2008 International Double Reed Society Conference. Some of her notable accomplishments are winning the BYU concerto competition, qualifying for the MTNA national competition, and touring Europe with the BYU Wind Symphony. She is a member of the Boise Baroque Chamber Orchestra and can be heard at the Idaho Shakespeare Festival and Opera Idaho as well.
Jessie also has a love for the piano and her studio includes both piano and oboe students. She enjoyed accompanying other oboe majors throughout her university experience and continues to do so as much as possible today. She has also studied piano with Dr. Del Parkinson in addition to her professional teaching and performing responsibilities. She holds degrees from Brigham Young University studying with Geralyn Giovannetti, and a master's degree studying oboe with Michael Henoch and English horn with Scott Hostetler.
A unique thing about Jessie is you will almost never catch her without her service dog, Faline, by her side. More information about Faline can be found here. In her free time, Jessie enjoys spending time with all her animals along with Faline, which includes her new service dog prospect Baymax, her cat Muffy, and her many quail, partridges, and chickens.
Carmen Izzo, Principal Clarinet
sponsored by Phil and Jennifer Jensen
Christina Lee, Clarinet
sponsored by Tom and Angie Beauchaine
Brian Vance, Principal Horn
SPONSORED BY ANNE AND BOB HAY
Mark Givens, Horn
Kaori Uno Jack, Bassoon
Brian Jack, Bassoon
Lauren Blackerby
Jessie Brown
Carmen Izzo
Christina Lee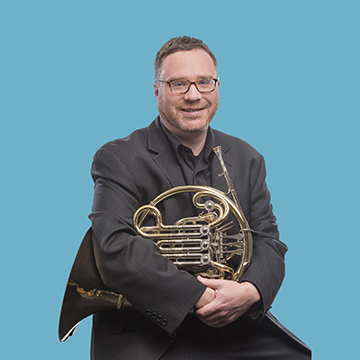 Brian Vance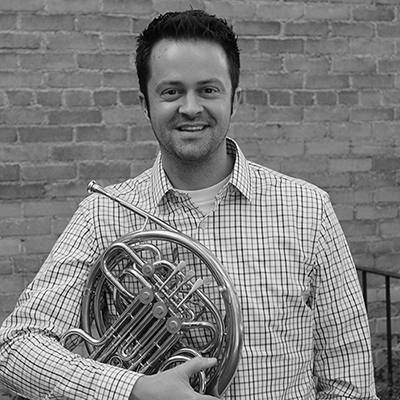 Mark Givens
Kaori Uno Jack
Brian Jack
Sponsors
Season
Sponsors
Season
Partners
Education and
Community
Sponsors
Program Notes
Mozart: A Pop-Up Video
Wolfgang Amadeus Mozart / January 27, 1756 – December 15, 1791
Serenade No. 12 in C Minor K.388
Mozart called this piece a "serenade", but it doesn't sound like one, making it one of his most puzzling works. An 18th century "serenade" was supposed to be a work of light entertainment written in honor of someone or something, a lover, a friend, a person being honored, or a special occasion. "Serenades" were almost always written on commission. But this serenade, written in a minor key, has a dark tone and appears to have a serious purpose. Unfortunately, Mozart left us with no evidence regarding its genesis. Musicologist Alfred Einstein said, "We know nothing about the occasion, nothing about the person who commissioned it, nothing about whether this client desired so explosive a serenade, or whether that is simply what poured from Mozart's soul." None of this fog or speculation detracts one bit from the music. It's quintessential Mozart through and through. So, we best forget what we don't know about and enjoy it for what it is: a precious gift. After all, it does end in a flourish in bright C major.
Executive Director Message
Welcome to the Boise Phil's new Digital Stage! Nearly every week this season, you'll enjoy new performances that you can stream anytime, anywhere. As a bonus, you can deepen your experience with our weekly Backstage conversations featuring our music director and musicians. Thank you for joining us!
Be sure to check out our Inside the Symphony blog for special features and insights into the Boise Phil.
MEET THE STAFF
Music Director Message
This season is designed to allow our audiences and philharmonic musicians to interact in the most intimate of settings. Our concerts will feature performances directly related to our great community and celebrate composers from diverse backgrounds - music will sing throughout the Treasure Valley and beyond. I am so excited to share the experience with our audiences!
MAESTRO'S CORNER
Board President Message
As board president, let me take this opportunity to thank all of the people, organizations and businesses who have helped us bring this innovative season to life. Your support has ensured that the Boise Phil continues to thrive and evolve to ensure that your local orchestra is accessible to everyone in our community.
MEET THE BOARD
Video Team
It takes a village to bring our Digital Stage to life. The Boise Phil is grateful to all of the incredible team of artists, producers, engineers and film-making wizards that have built these productions from the ground up.
MEET THE CREW
Youth Orchestra
Led by Jennifer Drake, the Boise Phil Youth Orchestra is a joy to hear. With more than 175 members practicing and performing safely this season, stay tuned for some great concert performances!
YOUTH ORCHESTRA
Master Chorale
Led by Grant Farmer 
interim director,
the Boise Phil Master Chorale will be performing with the full orchestra numerous times during the 21-22 season as well as their Spring concert.
Master Chorale
Donors
Thank you 19|20 donors and sponsors!
Mission
The Boise Phil reflects the energy and heartbeat of our communities through invigorating musical experiences that touch the human spirit.